Beefy NY Bagel Sando
Serves 4
Ingredients: 
3oz Stehouwer Sizzler steaks
Bagels (any flavor we suggest everything bagles)
American cheese, sliced
Eggs
Clove of Gralic, Smashed not chopped
Butter
Iceberg lettus, shredded
Tomato, sliced thin
Salt, Pepper, Mayonnaise and Ketchup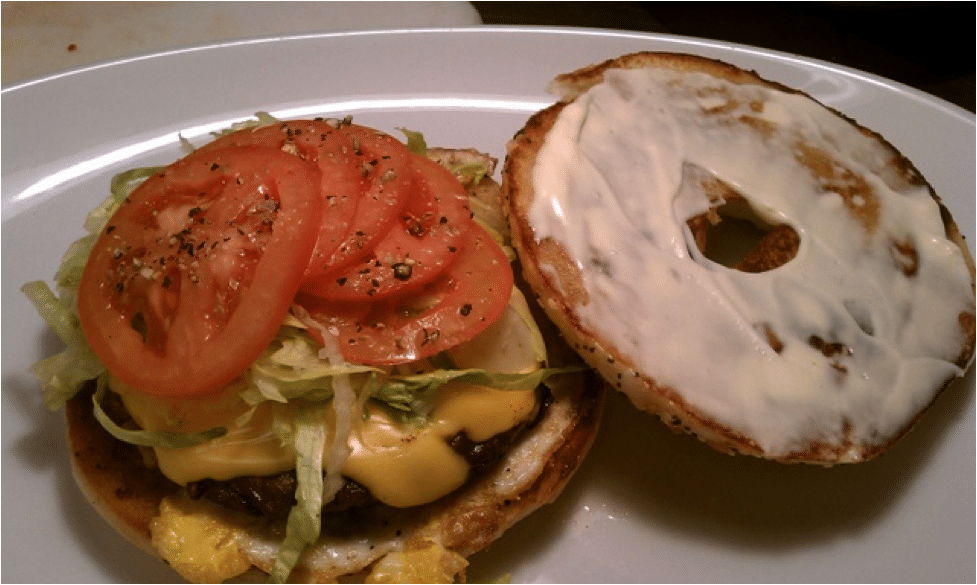 Technique
In a small omelet pan (non-stick preferred) heat the Butter and clove of Garlic for 5-7min and reserve the melted garlic butter, return the pan to the stove and discard the clove of garlic.
Brush the Bagel with a little of the garlic butter, and Toast the bagels in a pan on medium to low heat.
In the same none stick omelet pan set to medium to high heat sear the Sizzlers for 5 minutes on each side season with S+P and set them aside on a separate dish and keep warm.
Using the same pan again (can u tell I don't like doing dishes ;), add a little of the garlic butter and set the flame to medium to high heat.  Crack one egg into the pan season with S+P and run a plastic spatula across the middle to break up and even out the yolk with the rest of the egg cook for 3-4 min on each side. Once you flip the egg over you can start building the sando by placing a sizzler on top of the egg then add the sliced American cheese this will allow time for the cheese to melt while the egg finishes cooking repeat for the remaining 3 sandos.
To finish, lay out the 4 bottom half's of the bagels place the steak egg and cheese on the bagel and top with lettuce, tomato, ketchup and Mayonnaise close it up with the top half of the Bagel.
Stehouwer's Frozen Foods, Inc.
2055 Bristol Ave NW
Grand Rapids, MI 49504
(616)453-2471