Skillet Sizzler
Serves 4
Ingredients: 
4ea
2ea

2ea

2oz

4oz

4oz
4oz
8ea
2oz
1oz
.5oz

3oz Stehouwer Sizzler steaks
Baked Potatoes, Halved & Sliced
Bell Peppers, sliced
Scallions (green onions), sliced
Red onions, sliced
Mushrooms, sliced
Cheddar cheese, grated
Eggs, scrambled (with 2oz of milk)
Butter
Olive Oil
S+P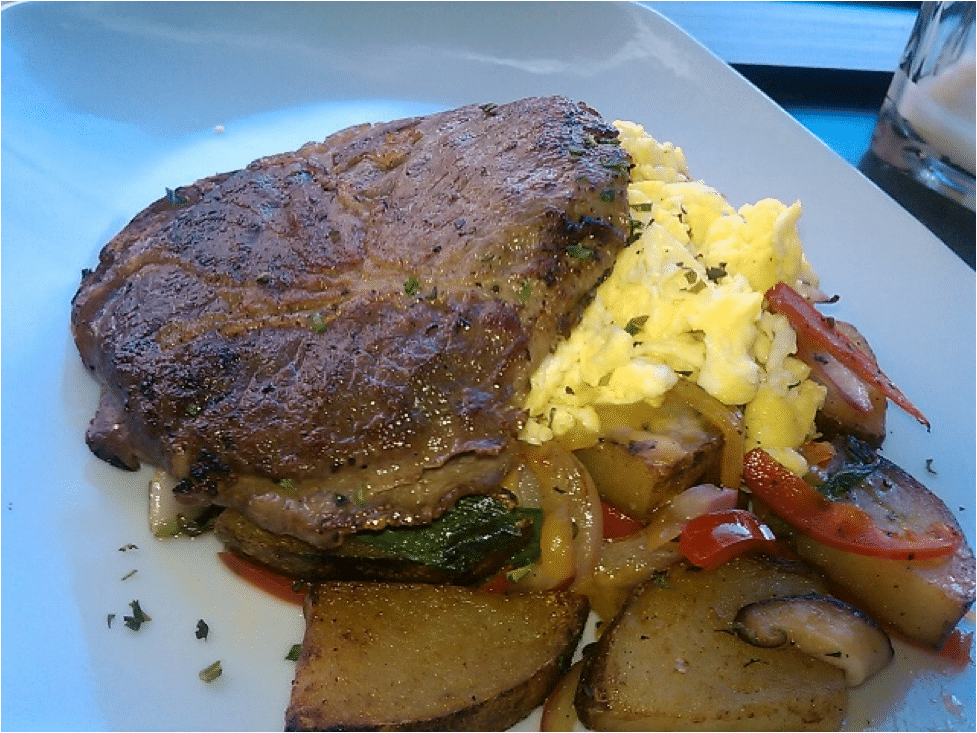 Technique
Heat up a large saute pan on high heat. Add 1/2 the olive oil and sear the Sizzlers for 2-3 min on each side and then reserve the steaks in a warm area.
With the saute pan still hot add the rest of the olive oil, blanched potatoes, and butter to the hot pan in that order so you don't burn the butter. Cook the potatoes for 7-8 min or until golden brown, stirring frequently.
Next, toss in the mushrooms and continue cooking for 2 min followed by adding the bell peppers, red and green onions, and saute for 2 more min. Finish the potatoes by topping with cheddar cheese and cover for 2 minutes to allow the cheese to melt.
In a non stick pan cook the scrambled eggs and add to the top of the potato. Scramble the sizzler to complete this monster breakfast.
Stehouwer's Frozen Foods, Inc.
2055 Bristol Ave NW
Grand Rapids, MI 49504
(616)453-2471